Biogas Generator (500KW/1100KW)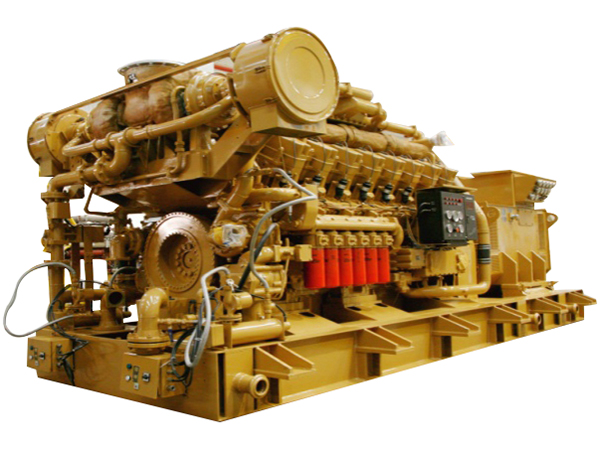 Biogas Generator (500KW/1100KW)
The main raw material for biogas is biomass. Biogas is a valuable resource with high calorific value and cleanliness. The comprehensive utilization of biogas will help in reducing the greenhouse effect and promoting a virtuous cycle of ecology, which can replace some of the energy such as oil and coal. There are large amounts of biogas resources available for use in farms, food factories, brewing companies, sewage treatment plants, waste treatment plants and other companies.
Biogas is used for power generation, and waste heat recovery equipment is used for recovering the heat of engine exhaust. Therefore it can realize cogeneration, develop a recycling economy, and the comprehensive utilization efficiency of biogas can reach over 70%. It can not only reduce environmental pollution, benefit the environment, reduce greenhouse gas emissions, but also can ease the contradiction between supply and demand of electricity, reduce production costs, increase the efficiency of enterprises, and increase the competitiveness of enterprises.
Since 2002, Jichai has devoted itself to the R&D of biogas engines. After years of continuous efforts, 550KW and 1200KW biogas engines have been successively launched, and they can be assembled as generator sets. They are now widely used in China and Southeast Asia.
The use of biogas for power generation is a manifestation of the conversion of biomass to higher-grade energy. The main component of biogas is methane (CH4), which usually accounts for 55% to 65% of the total volume; followed by carbon dioxide, which accounts for the total volume. 30% to 40%; remaining hydrogen sulfide, ammonia, hydrogen, and carbon monoxide gases account for about 5% of the total volume. When the biogas burns completely, it only generates carbon dioxide and water and releases heat energy. It is a clean fuel.
CNPC JICHAI cooperated with WOODWARD Company in the United States, adopting an advanced international gas-fired external mixing method, using advanced electronic control technology and lean-burn control strategy to develop a gas engine with gas and air mixed before turbocharger, which is cost-effective and has good Controllability and reliability. Since the products were put on the market in 2005, they have been sold well both at home and abroad, and have achieved good benefit.
Features of Biogas Generator
Production code: 1215Z,6016Z
100% independent intellectual property
International mainstream control technology (EGS02 engine intelligent management system)
International advanced air-gas ratio control technology (TEJCT air-fuel ratio automatic adjustment)
High-flow and high-pressure intake system adapts to wide variations in concentration (30% to 60% methane concentration)
Low-pressure air intake and lean combustion control technology (adapt to low pressure gas, better emissions)
Advanced management module (IG-NT automatic synchronization and automatic load distribution)
Online Maintenance Technology (More than 2500 hours of continuous trouble-free operation)
Digital Monitoring Technology (Full monitoring of engine thermal parameters and unit electrical parameters)
Distributed Energy Systems (Electric-Thermal, Electric-Hot-Cool)
Different voltage level output (0.4kV/6.3kV/10.5kV)
Technical parameters
Genset model
500GF-N
1100GF-N
Alternator model
1FC series, Siemens technology, brushless excitation, automatic voltage control
Control panel
GPL500
GPL1100
Rated power (kW)
500
1100
Rated voltage (V)
400V/480V/6300V/10500
Rated frequency(Hz)
50/60
Rated power factor
0.8
Wiring method
Three-phase four-wire, star connection
Protection class
IP23
Insulation class
H
Stabilized voltage adjusting rate
≤±2.5%
Instantaneous voltage adjusting rate
≤+20%(-15)
Voltage recovery time
≤1.5 s
Fluctuation of voltage
≤1.0%
Stabilized frequency adjusting rate
0~5%
Instantaneous frequency adjusting rate
≤±10%
Frequency recovery time
≤7 s
Fluctuation of frequency
≤0.5%
Overall dimension (mm)
5120×2040×2776.5
6198×2540×2180
Weight (kg)
13800
21000
Engine model
G12V190ZLTZ-2
H16V190ZLTZ-2
Type
Four-stroke, V-shaped, turbocharged, inlet air cooling, spark ignition,external-mixing electronic control
Number of cylinder
12
16
Bore (mm)
190
190
Stroke (mm)
210
215
Total displacement (L)
71.5
97.53
Rated speed(r/min)
1000/1200
1000/1200
Rated power (kw)
550
1200
Idle speed
700r/min
Gas pressure
100~400 KPa
Gas consumption
≤11000kJ/kW·h
≤9500kJ/kW·h
Oil consumption
≤0.8g/kW·h
≤0.6g/kW·h
Exhaust temperature (before turbine)
≤650℃
Warm water temperature
< 85℃
Intercooler water temperature
< 45℃
Oil temperature
< 90℃
Speed regulation rate
0~5 %
Type of cooling
Water cooling, open type with cooling tower, close type with vertical radiator or horizontal radiator
Lubrication method
Press and spray lubrication
Starting method
Electric starting
Direction of rotation
Anticlockwise (facing the power output end)
Application project
Biogas generator set power plant in Sichuan

Biogas generator set power plant in Thailand

Biogas generator set power plant in Nanjing
CNPC JICHAI was formed in 1920, we are a prestigious brand in China and is a global leader in internal conbustion engine and generator set manufacturing. Our power solutions are designed to improve your performance and productivity.